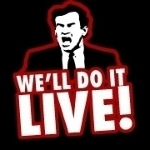 So a podcast wasn't enough. Then we needed video. Then video wasn't enough. We needed LIVE video. Well…. I give the people what they want. KFC Radio LIVE via Google+
Now this still has a lot of kinks in it. We can't play the voicemails without unplugging headphones and unplugged headphones means lots of feedback. But the only way to figure out whats wrong is to start doing it and I already have an idea on how to make it better next week.
Check out KFC Radio for more of the ridiculousness.